Click here for English translation
Trybike Steel, 2 bikes in 1 for many years of fun
Check out www.trybike.nl for more info.
If you prefer a steel balance bike and also like your child to start with a tricycle, then Trybike Steel is the bike of choice. Co&Co is very proud to have developed the first tricycle balance bike made of steel.
Learning to ride a bike has never been this much fun and so easy. The Trybike teaches children to walk and ride already starting at the age of 15 months. The first setting is the low tricycle mode which offers children lots of support to start walking and riding.
At ages 2 to 3 most children are ready to have the Trybike converted into a bicycle. Using only 2 tools you easily convert the tricycle into a bicycle. This is when the next stage of riding starts, keeping one's balance. This will be difficult in the beginning without the support of the third wheel but after some practice children will master the skill of riding and balancing and it will keep parents fit whenever they have to keep up with the pace.
With the unique footrest children even learn to balance better later on and, consequently, learning to ride a pedal bike without the training wheels will be peanuts.
Another great feature of the Trybike is its control disk for the back wheel. This way you can get an even lower or higher seat position or increase or shorten the wheel base. Just create the perfect Trybike setting for all levels and skills of your child. The Trybike guarantees 4 years of fun and learning.
This 2-in-1 balance bike has been designed and developed in The Netherlands by Co&Co after years and years of experience with balance bikes. We have applied this experience and selected the best materials, the most durable construction, the nicest details and a quality finish. The result: the Trybike, also known as the kind of bike we would have loved to have as kids!
Tip 1
When your child is able to balance by keeping feet from ground for some time it is possible to make the next step to a pedal bike. The only thing they have to learn now is to pedal and brake. You don't have to put on training wheels anymore. Most kids will master to ride a pedal bike within 1 hour if they are experienced balance bikers.
Tip 2
Co&Co tries to be as sustainable as possible but saving the Trybike for one of your other children or passing it on is maybe the best way of sustainability. We made the Trybike to last!
NEWS
We won the Baby Innovation Award 2018 with our new Trybike Steel Vintage.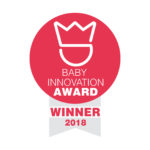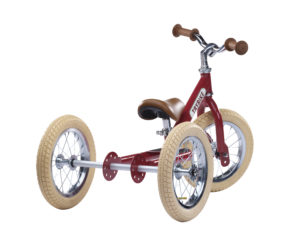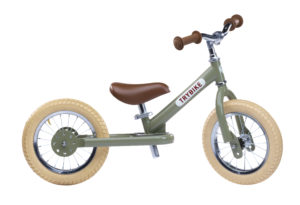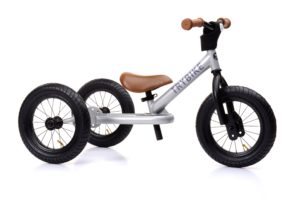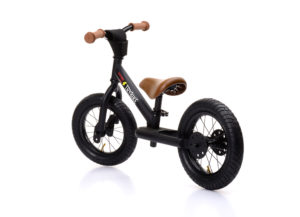 SPECS:
Age:
From 15 months up to 6 years
Seat height:
Adjustable from 30 cm to 45 cm
Weight:
6,3 kg as a tricycle and 5,2 kg as a bicycle
Other features:
12″ pneumatic wheels, steel frame and fork, steel wheels, quality ball bearings, ultra strong axles, non-woven bag for the extra parts, adjustable handlebar height, quick-release seat fastener, easy to assemble and to convert the Trybike with just 2 allen keys and 2 wrenches.
Model types:
Matt black with 2 sets of stickers with loads of designs to choose from or silver metallic also with 2 sets of (the same) stickers.
Warranty:
2 years
Recommended retail price:
€ 94.50 for the bicycle only
€ 129,95 for the 2-in-1
€ 39,50 for a tricycle kit to turn your bicycle into a tricycle. prices outside NL may vary
Safety standards:
complies with CE EN-71 safety standard
More info:
www.trybike.nl or see our dealer list for a retail point nearby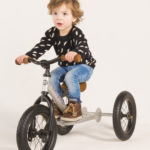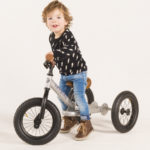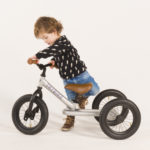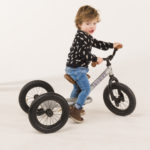 Klik hier voor Nederlandse vertaling
Trybike, de 2-in-1 loopfiets die meegroeit met je kind
Kijk ook op www.trybike.nl voor nog meer info.

Co&Co is enorm trots om de eerste metalen 2-in-1 driewielloopfiets te hebben ontwikkeld. Na de ontwikkeling van de Trybike Wood hadden we de smaak te pakken en zijn we meteen doorgegaan met als resultaat: de Trybike Steel. Met dezelfde uitgangspunten als de Trybike Wood, namelijk leren fietsen leuk en makkelijk maken.
De eerste stand van de Trybike is de lage driewieler met veel stabiliteit om makkelijk loop- en rijvaardigheden te ontwikkelen. Hiermee leren kinderen al vanaf 15 maanden lopen én fietsen.
Wanneer kinderen 2 à 3 jaar zijn, kan de Trybike in de tweede stand, de tweewieler. Met slechts 2 inbussleutels bouw je de lage driewieler eenvoudig om naar een lage tweewieler. Haal de wielen los en vervang de lange achteras door een korte as met 1 wiel. Hiermee begint de volgende fase van het leren fietsen, het vinden van je evenwicht. In het begin gaat het nog wat onwennig en missen kinderen de stabiliteit van het derde wiel. Na wat oefenen en met wat vallen en opstaan hebben ze het vaak door en duurt het niet lang voordat ze de straat door racen. Met de unieke voetensteun leren kinderen later nog beter balanceren en wordt het fietsen met trappers een makkie.
Een ander uniek item aan de Trybike is de control disk voor het achterwiel. Hiermee kun je de fiets nog lager of hoger zetten en kun je de wielbasis lager of korter maken. Op deze manier creëer je de perfecte instelling voor het niveau en de vaardigheden van elk kind.
Van de Trybike hebben kinderen zeker 4 jaar lang plezier en zijn kinderen in staat om motorische vaardigheden sneller te ontwikkelen.
Deze 2-in-1 loopfiets is ontwikkeld en ontworpen in Nederland door Co&Co en samengesteld na jarenlange expertise met loopfietsen. Wij hebben bewust gekozen voor de beste materialen, mooie details en een hoogwaardige afwerking. Met als resultaat: de fiets die wij als kind eigenlijk hadden willen hebben.
Tip 1
Als je kind tijdens het loopfietsen de voetjes van de vloer houdt is het een volleert loopfiets expert. Nu kun je ook een echte fiets met trappers kopen. Mocht je een fiets met trappers kopen laat dan de zijwieltjes achter in de winkel. Het enige dat je kind nu nog hoeft te leren is te trappen en te remmen. Balanceren is geen probleem en na een uurtje oefenen fietsen de meeste kinderen al.
Tip 2
Bewaar de Trybike voor je volgende kind of geef 'm door aan een ander kind. Dat is namelijk pas echt duurzaam.
Nieuws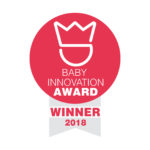 Wij hebben de Baby Innovation Award gewonnen met onze nieuwe Trybike Steel Vintage lijn.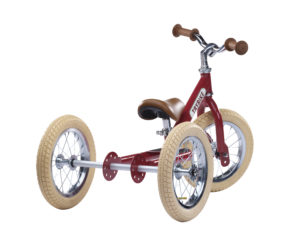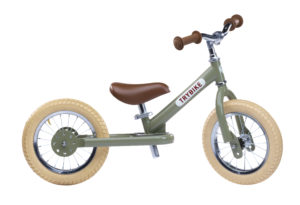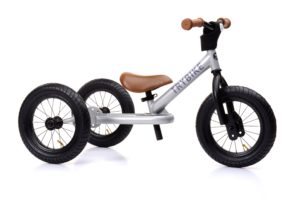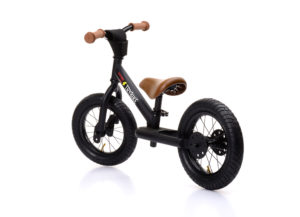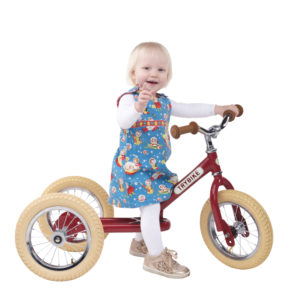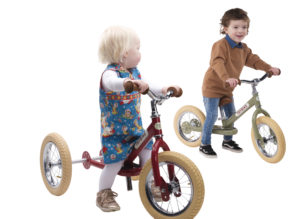 SPECIFICATIES:
Leeftijd:
Van 15 maanden tot circa 6 jaar
Zadelhoogte:
Instelbaar van 30 tot 45 cm
Gewicht:
Driewieler 6,3 kg tweewieler 5,2 kg
Kenmerken:
12 inch extra brede luchtbanden, stalen frame en voorvork, stalen wielen met spaken en kwaliteitslagers, assen van hoogwaardig staal, zeer eenvoudig om te bouwen mbv 2 inbussleutels
Uitvoeringen:
Metallic zilver of matzwart. Vintage rood of groen. Stickervel om de fiets te personaliseren en
een zwarte kinbeschermer bij de zwarte en zilveren fiets
Garantie:
2 jaar
Adviesverkoopprijs:
€94.50 voor alleen de tweewieler
€ 129,95 voor de 2-in-1 fiets
€ 39,95 voor de trybikeset om van de tweewieler een driewieler te maken. Vanaf jan-2018 leverbaar als vintage in rood of groen
Keurmerk:
Voldoet aan de eisen van de EN71, CE keurmerk
Meer info:
www.trybike.nl of kijk bij de verkooppunten voor een dealer bij u in de buurt